New Product Announcement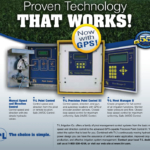 Precision Point Control Three (PPCIII)
T-L Irrigation Co., manufacturer of hydrostatically powered pivot and linear irrigation systems, announces the Precision Point Control III, the newest advancement in T-L's mid-level control from its family of pivot management systems.
With the addition of a GPS Antenna at the end tower or a Rotary Encoder at the pivot point, the PPC III Control Panel can automate operation of several functions by angle location (degrees) of the pivot.

Up to 5 variable application areas can be set in either the forward or reverse direction.
End gun operation can be set with up to 3 different end gun tables to accommodate multiple towable pivot locations.
Auto Reverse/Auto Stop operation can be set by pivot position.
PPCIII's user friendly control panel can display real time diagnostic information such as set speed versus actual speed, the system's current run time, and relevant GPS data such as latitude and longitude and WAAS fix.
When combined with PPC III, T-L's hydrostatic design and continuous system movement gives users the assurance of uniform water application, improved crop production, and effective system management.