New Product Announcement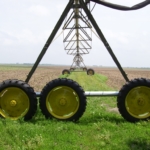 3 Wheel Planetary Tower Option
T-L Irrigation Co., manufacturer of hydrostatically powered center pivot irrigation systems, announces the availability of a 3-Wheel Planetary Tower Option.
The 3-Wheel design is used to improve tower flotation and reduce wheel track depth. Customers also gain the benefits of T-L's exclusive hydrostatic drive design and planetary gearboxes, which move the pivots continuously, providing even water distribution and reduced gearbox maintenance. Wheel track formation is lessened since there is no start-stop motion common to electrically driven pivot systems.
T-L alone offers a planetary gearbox that has twice the operating efficiency of the worm gear design used by other manufacturers and driveline maintenance is eliminated. There are none!
The 3-Wheel configuration is often used on the end tower of a center pivot joined with a corner system. T-L's 3-Wheel assembly is available on most T-L product except the towable system. Contact T-L Irrigation Co. at 1-800-330-4264 or sales@tlirr.com,